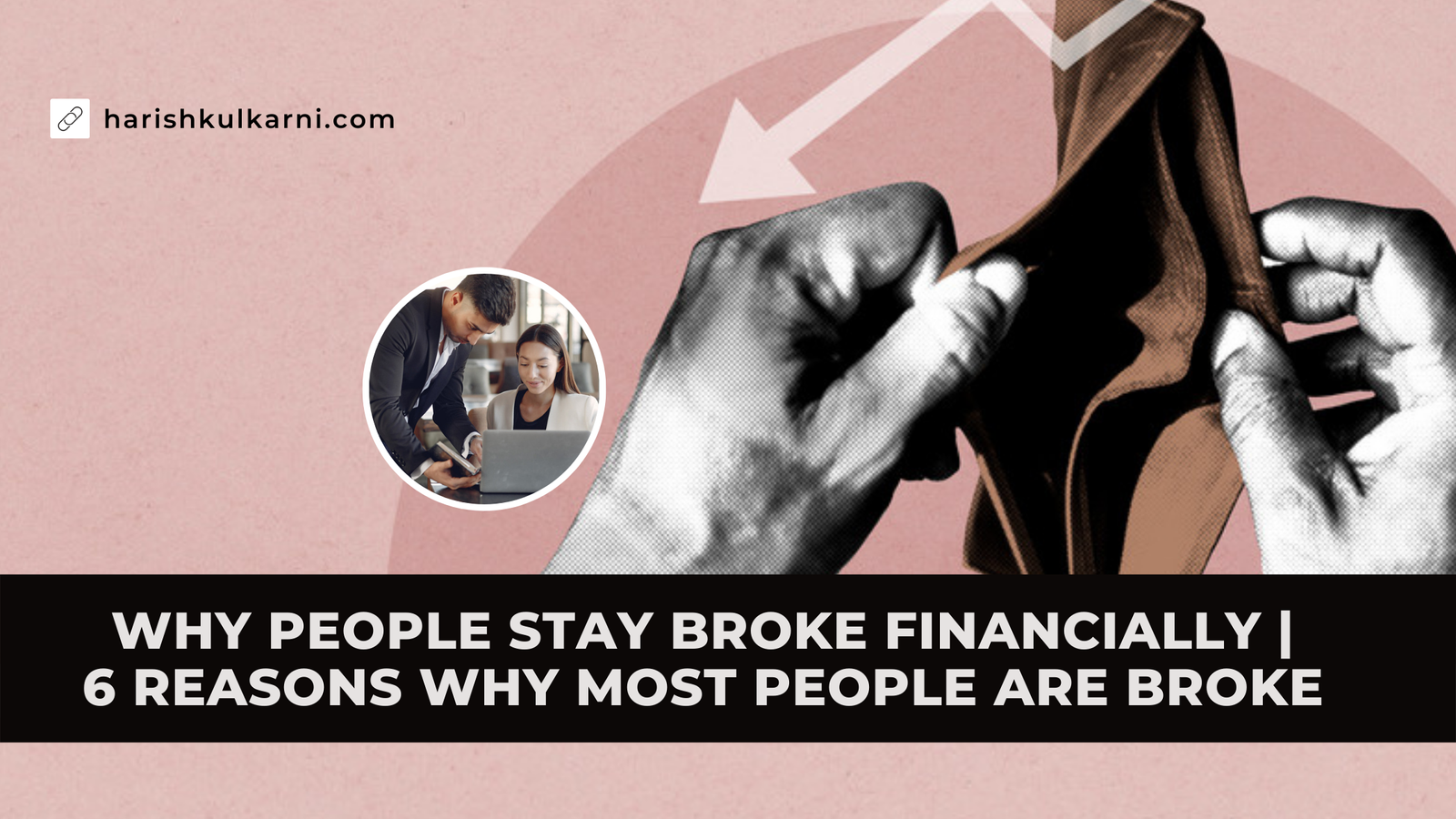 Reading time: 4 minutes and 6 seconds. This article has 822 words. Written by Harish Kulkarni
The following are six reasons why people are broke and how they lost their money.
Money is the most precious object on the planet, and every human being works hard to get and spend it. In this rush, some people lose their footing and become bankrupt.
Here are some reasons why people stay broke, and you may compare yourself to this list to see if you are also in this cycle or not.
People who go bankrupt:
People never intended to be broke or become broke, but their behaviors reveal their route and future financial goals. People continuously think about saving, earning, and purchasing liabilities that would not repay a single rupee, yet we term it luxury. To avoid these and avoid going bankrupt, you must have a stated financial objective. This is critical because having a defined goal will help you save money, and saving money means you will never go bankrupt.
Note: Setting clear financial goals will aid in preventing financial ruin.
They Don't Invest Consistently:
I'm not advising you to invest in stocks or other things; it's entirely up to you. I mean that you should invest your money in places where you can earn a profit, no matter how big or small. You cannot consistently invest money in stocks, so visit your financial consultant, who will assist you in the proper direction.
If you ask me, I can recommend that you invest in a decent return investment policy that requires monthly payments and also allows you to invest monthly consistently.
Note: Putting your money at risk is excellent, but you should not put your family at risk.
Spending Before Saving for an emergency:
One common difference between rich people and people who go broke is that the Rich mind never spends before they invest and save, but here poor mind spends before they invest and save for an emergency.
When an emergency occurs, they spend all of their money and fall bankrupt. If you had saved an emergency fund like a rich mind, you could avoid being broke. Another thing to keep in mind is that people who go broke buy items by borrowing money at interest. And spend without thought.
Note: The most excellent approach to avoid becoming broke is to keep track of your income and expenses.
They ignore their debit:
This is one of the common mistakes every individual makes in their life and, unfortunately, end-up being broken. People usually ignore the debit in the loop of low (percentage) interest or having time to return the loan.
When people get stuck in these two things, they will retreat into their comfort zone, where they will end up paying too much interest and going bankrupt.
They spend more than they make:
People who go bankrupt quickly. They spend more than they make, and they live their lives without any financial aspirations.
Maybe you've seen that before a significant financial loss, some people buy luxury, branded products and never intended to buy assets. If they do, they will purchase credit assets and end up paying a long period of interest on that credit.
If they do, they will purchase credit assets and end up paying a long period of interest on that credit.
Note: Saving money is complex; staying broke is difficult; choose your difficulty.
6) They buy liabilities first, not assets:
People go broke in a variety of ways; some people earn well but remain broke; the reason for this is a lack of proper financial education.
Furthermore, the assets will not provide them with a second source of income. They can't even tell the difference between assets and liabilities, and some people buy liabilities thinking they're buying assets.
Note: an asset is the only item that always appreciates and pays interest without incurring numerous expenses.
Here are some basic strategies for saving money and staying out of debt.
Money-saving tips:
Delete all shopping apps from your phone.
Decided that I would never buy anything after seeing advertisements.
Decided that I would never fall into the credit trap.
Avoid using your debit or credit card.
The use of internet payment apps should be avoided.
Make a list of all of your daily expenses.
Don't use too many payment methods.
Don't always carry a debit and credit card with you.
Don't always carry a debit and credit card with you.
Answer these two questions in the comments section.
1) Can you tell me one reason why people stay broke?
2) What do you wish to purchase first?
B) Liabilities A) Assets
Comment "need book" to receive a FREE Ebook.