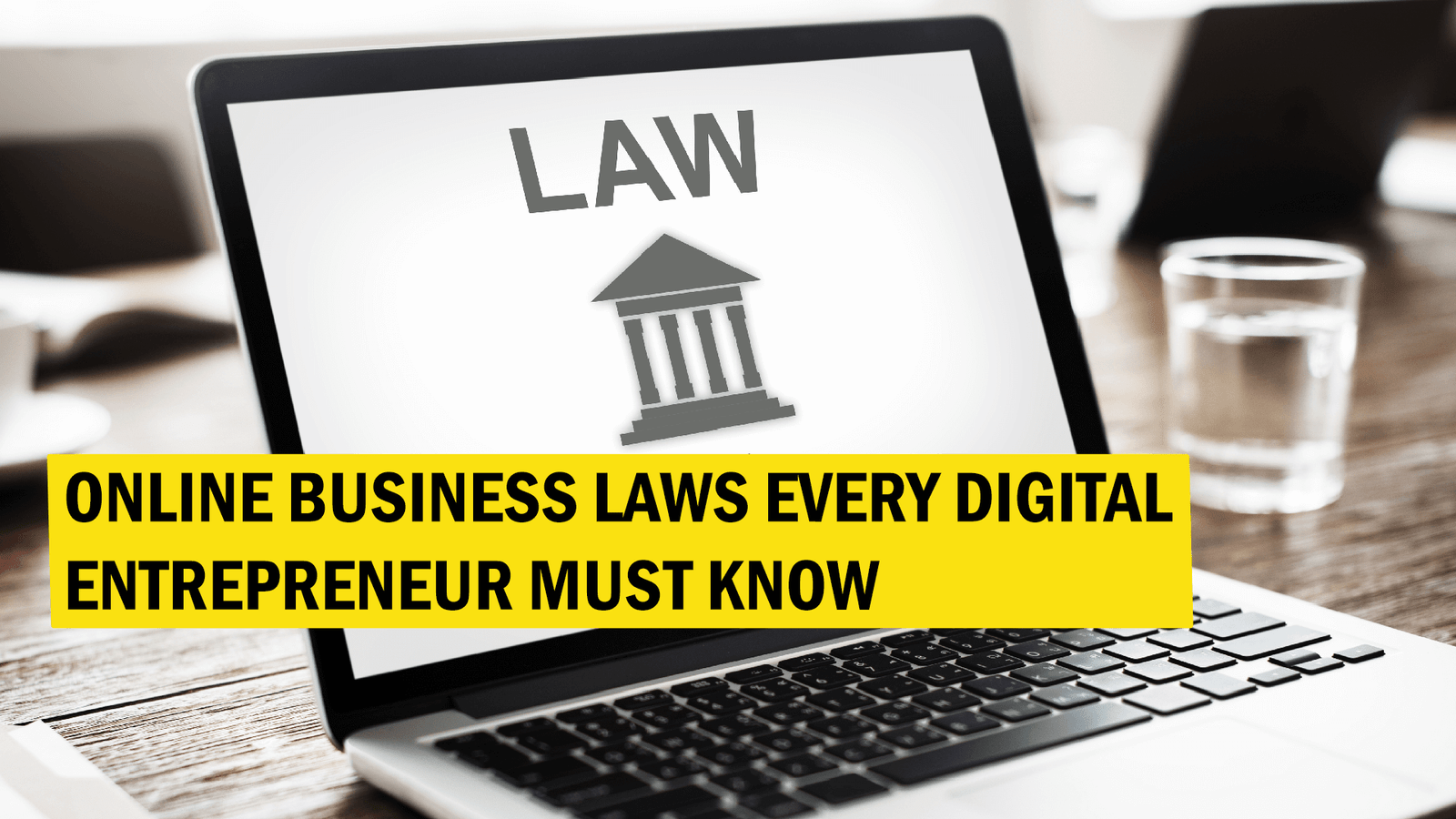 Online Business Laws Every Digital Entrepreneur Must Know
One of the first things that you will discover in starting an online business is that you cannot avoid certain specific legal laws. An online business is matter to not only traditional laws imposed on any organization, further rules and limitations. As per the changing world, these rules and regulations will change quickly.
In this blog, we review online business laws so that you can start setting your online shop.
Note: We're not lawyers, and laws differ from state to state so if you have questions after reading our blog, consult a local attorney to answer your questions.
What are online business laws?
Online business laws are alike to brick and mortar business modulation. with their self particular consideration that must be validated. These are needed to comply with strict rules when dealing with privacy, security, copyright, tax and sales.
continuous increasing in uses of the internet for both retail and business purposes. as well in commercial and business it will be considered as a violation of the rules so the state can impose the penalty and take serious action. so it's important to know about online business laws for both customers and business owners.
If, as is happened commonly during the recession, property developers fold, file for bankruptcy or flee the country, the duties of the broker to the buyer will come under close inspection.
Ecommerce Laws Online Business Owners Must Know
Payment gateways: Online transactions
Trademarks, patents and copyrights: Protection
Business insurance: Safety
Customer privacy: Responsibility Of customer data
Online business is a branch of retail.
Relatively to other businesses, you need to verify with other business laws and international and local business laws. Further need to verify with other digital provisions over the web accessibility, data privacy and e-payment processing that may be relevant to your online business. .
To stay safe you need to be aware of online business laws. Here below we mentioned some of the considerable laws:
1) Payment gateways:
payment gateways are the one of the key factors for online business to run smoothly and process customer payments online.
When it comes to security in online payments, data breach can lead to a high regulatory fine. furthur no need to tell the loss of brand image.
Stay alert when it comes selecting payment gateways for online business store need to aware of:
DCI-PSS compliance
GDPR complains (for make sale in europe country)
Website HTTPS (Hypertext Transfer Protocol Secure) connections (SSL certificate – Secure Sockets Layer) for all secure payments.
Integrated security and anti fraud protection.
2) Patents, Trademarks and copyrights:
For any business patents, trademarks and copyrights are most important to protect business intellectual property rights.
Patent: is the exclusive right provided for an invention, which is usually used to protect a product or a solution to a problem. to get a patent to protect from disclosure to the public product secret.
Trademark: is used to protect a phrase, word, symbol or a design that identifies the particular source goods.
Copyright: is especially used to protect authorship, as like writings, music and arts which can be tangaly expressed.
3) Business insurance:
Basically there are several insurances available for small business such as General liability, product liability, Professional liability, commercial liability, and home based business insurance.
Research about insurance which will be suitable for your business or further more reach out to local insurance agents to get more insight about business insurance.
It is a good idea to choose the product liability at the beginning stage of business. This insurance for those kinds of business who are into distribution, wholesale, or sell products. Having insurance is like a second life for those businesses who are into high risk (product) business.
4) Customer privacy:
The future is "Data"
Online ecommerce websites can collect a huge amount of valuable data to create a data driven shopping experience for customers but not all data can be used for analytics.
Data privacy laws around the globe big business using customers' valuable data information for analytical purposes. Customer data includes the name of the customer address, social security numbers, debit and credit card details etc.
Also some states that to shop ask for permissions for collecting and processing their current or live data.
It's everyone's responsibility to protect and keep safe data as a customer or business owner. Data privacy is important as per The Privacy Act of 1974 (5 U.S.C. § 552a).