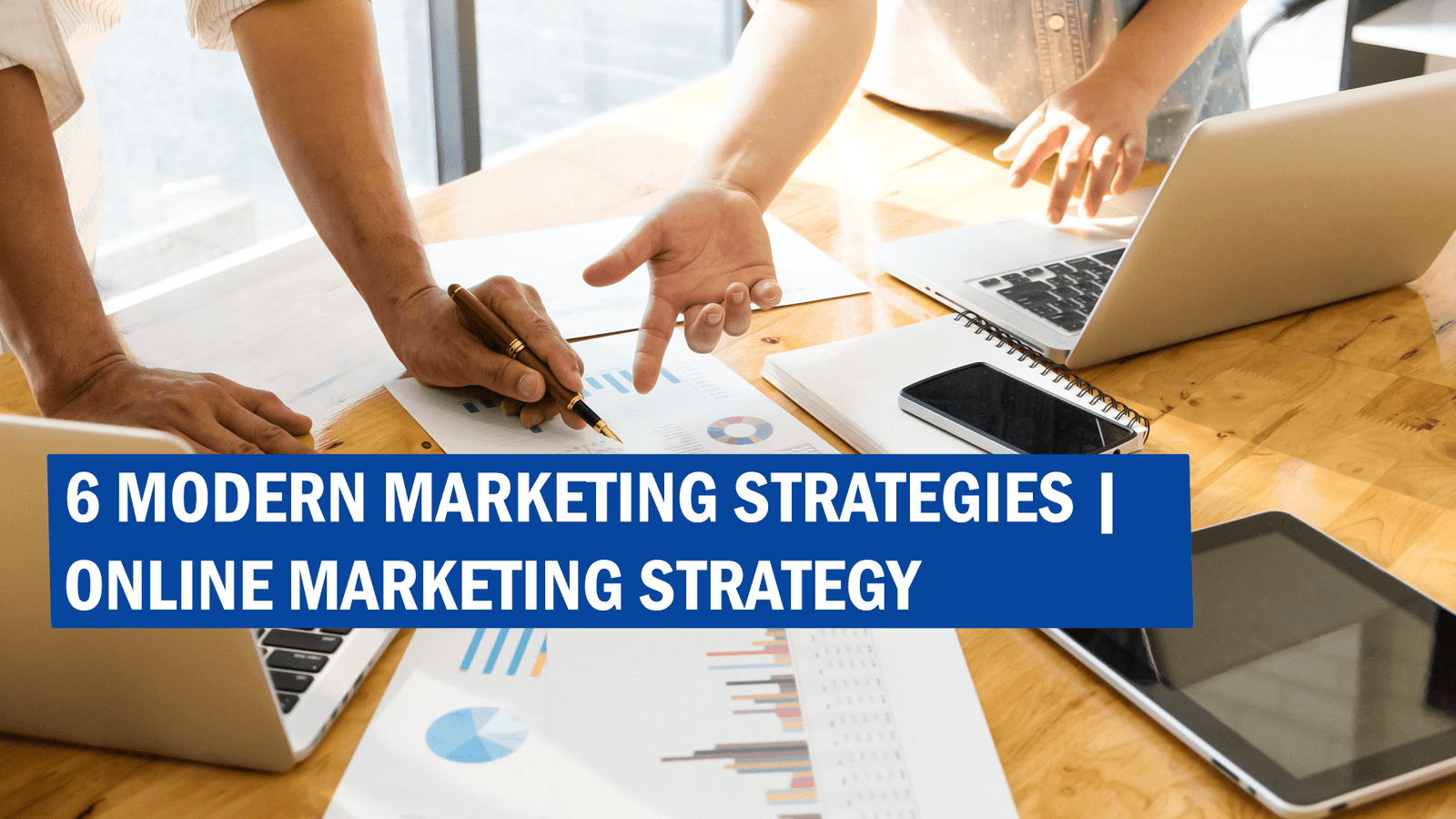 6 Modern Marketing Strategies | Online Marketing Strategy 
A marketing strategy is an important plan and part of the business that helps the business grow. It is also a way to reach target people and convert them into customers for their service or product.
Example: Colgate, Zandu Balm, and Voline are some of the well-known brands because of their marketing strategies, as they run ads on television to reach people so they can easily know about their brand and purchase their product. This is one of the marketing strategies.
Marketing strategies that every business must know.
Ignoring social media is a step backwards in the race.Social media is where the game-changing happens. Some startups grew up on the shoulders of social media. It may be difficult at first. But soon, things will change and get easier day by day.
The good thing is that you can hire a social media manager to take care of all your social media channels. Spending money on social media marketing is far better than other modes of marketing because it is cost effective. But if you can do it, start now as you can post product images, your thoughts, opinions, testimonials and more related to your product or service, which helps your business educate your customers and helps them understand your business and the variety of products and services you offer.
Content Marketing: Content marketing is a marketing strategy that aims to spread important and relevant content to attract and retain a target audience and drive customers to take an action that leads them to purchase a product or service. 
Content marketing is nothing but helping people find the services or products they need by providing relevant and important content about the product or service they are looking for.
Content marketing is also a great and effective marketing strategy used by large, small local businesses and multi-million dollar corporations such as Microsoft, P & G, and Cisco.
SEO: SEO stands for "search engine optimization." SEO is a digital marketing strategy that helps business websites stand out on the Google search engine's first page. SEO is a long-term, on-going process which requires constant investment and time. It will help your business to improve its visibility on Google and also increase the chances of revenue. SEO is a game-changing strategy. Once you start landing in the search engine first position, the sky is the limit to getting more leads, more clients, more sales.
Images are better than words, and videos are better than images. The video marketing strategy is one of the most effective marketing strategies that engages the viewers. 
Video marketing: Videos can be used in various stages of marketing, from attracting customers and building rapport to promoting your brand, product, and services. 
There are five video marketing strategies: 
1) Gather all of the necessary equipment, such as cameras, lighting, microphones, and so on.
2) Tell your storey in the manner in which you wish to persuade others.
3) Add interest and engagement to your video by displaying your products or telling a story.
4) Maintain a clear and defined video storyline.
5) Share the video on social media to reach the customer.
6) Examine and solicit feedback on how it aids in the understanding of the product or service.
Affiliate Marketing: 
Affiliate marketing is the game-changing marketing strategy that most people won't understand. Furthermore, it is not that easy to get started. To make something big, you need that level of product and service and a strong model to take your products and services to the world. 
Affiliate marketing is hard to start, but once started, the sky's the limit. To start affiliate marketing, you need to get started with influencers, bloggers, youtubers, and more public figures to take your affiliate marketing business strategy to the next level. 
Email Marketing: 
Email marketing is one of the best marketing strategies that helps to directly reach the target customer and pitch your products and services. Furthermore, email marketing is part of the sales funnel. Emails are often used in business to maintain relationships with customers, engage them with their business and map them for future business. 
Mems Marketing:
Meme marketing, also known as viral marketing, is used as a medium like word of mouth or social media advertising. It is used to promote products or services by creating engaging and fast-spreading meme images in the format of content.